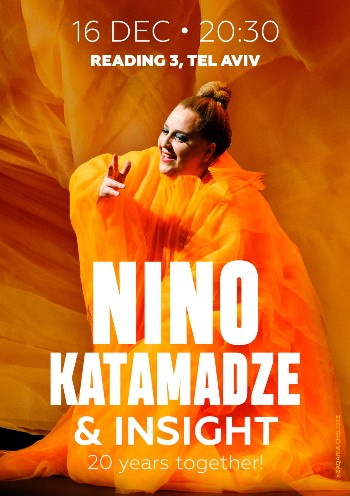 The main voice of modern Georgian music, Nino Katamadze, will perform a single concert at the Reading 3 club in Tel Aviv on December 16, 2023.
Nino Katamadze and the renowned band Insight, known for their incredible energy, are celebrating their 20th anniversary of collaboration. That's why the concert promises to be an emotional adventure for all fans of this unique singer.
Nino Katamadze and her band Insight are not only the pride of Georgia but also of the global music scene. Her extraordinary talent effortlessly weaves together a multitude of styles and genres, ranging from jazz, blues, and rock to psychedelia and ethnic music. Nino's vocals, in a captivating dialogue with the exceptional instrumentalists of her band, combined with unexpected musical experiments and innovative showmanship, leave no one indifferent. Each Nino Katamadze and Insight concert becomes an exceptional event, filling venues around the world.
"The only universal language that everyone understands, and it doesn't require translation, is creativity," says Katamadze. "It is understood and embraced by all, and it helps bring people closer."
Insight group:
Nino Katamadze - vocals
Gocha Kacheishvili - guitar
Ucha Gugunava - bass
Alexander Japaridze - drums
Papuna Sharikadze - keyboards
Buy tickets
purchase without
intermediaries
0% Commission
and fees