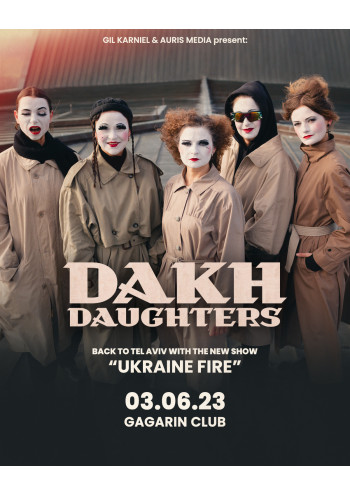 Dakh Daughters
Tel Aviv-Yafo
Club Gagarin
The sister group of Ukrainian sensation DakhaBrakha Back to Tel- Aviv with the new show --UKRAINE FIRE--
A powerful message about love, freedom, and Ukrainian identity
"Ukraine Fire" - What is happening in Ukraine now - this war of Russia to destroy Ukraine - is a catastrophe for the whole democratic world, all humanity, not only ours, Ukrainian.
However, Ukraine is now fighting this monster itself. Therefore, we need help to win this fight, to protect refugees, to get weapons, medical care.
Our performance is a testament to the crime of Russian troops, the humanitarian catastrophe they caused, the horrific deaths of civilians in Kharkiv, Mariupol, Chernihiv, Sumy, Bucha, Gostomel, Balakliia and many other parts of the country. At the same time, our performance is a hymn to our defenders and to the Ukrainian people, who stand courageously and restrain this evil.
Looking at how heroically our soldiers are now reclaiming every piece of Ukraine, we should do our job with the same dignity and defend the values of freedom with the help of art. Art is our weapon.
We are here today because we are musicians and artists. It is very important for us to feel support and solidarity with Ukraine. The Ukrainian people became victims of Russian aggression and hero's of resistance at the same time. Because slaves cannot defeat free people.
purchase without
intermediaries
0% Commission
and fees