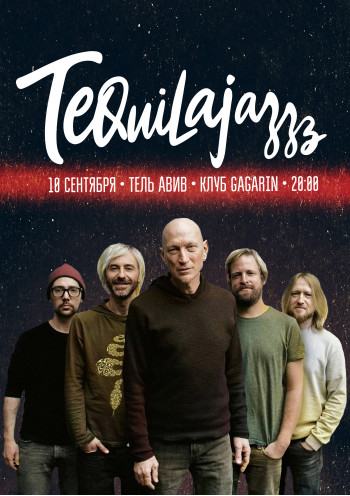 Tequilajazzz
Tel Aviv-Yafo
Club Gagarin
Tequilajazzz - Russian indie rock band comes back to Tel Aviv
Doors open: 20:00 / Show: 21:00
Tequilajazzz will perform in Tel Aviv for the first time since 2000 as a part of the Tequilajazzz Family in Exile tour. Gagarin Club, September 10th, doors open at 8:00 PM.
Tequilajazzz is one of the most iconic groups on the rock and alternative scene in Russia.
In February 2023 Tequilajazzz decided to resume their concert activities with both old and new material in a partially renewed lineup, because the music must go on.

"We look at the world with surprise, bewilderment, and sometimes with fear," says Tequilajazzz leader Evgeny Fedorov. "It is clearly losing his mind and does not seem to notice that it is fighting and dancing on the edge of the abyss. We meanwhile just compose songs that contain our thoughts about what to do and where to run - or vice versa: how to stay in the crowd and survive, looking at civilization flying into hell."

After Russia's military intervention in Ukraine, Tequilajazzz suspended their concert activities in Russia, and the band's leader, Evgeny Fedorov, left the country a week after the war began.
Buy tickets
purchase without
intermediaries
0% Commission
and fees