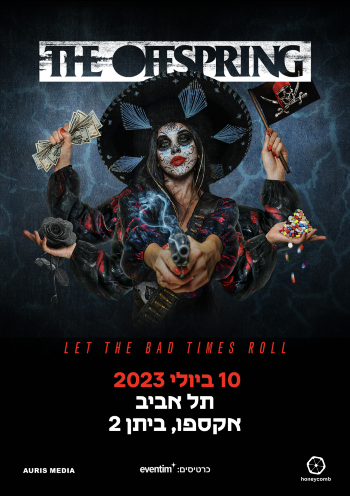 The Offspring
Tel Aviv-Yafo
Expo - Pavilion 2
THE OFFSPRING For the first time in Israel! 10.07.2023, Monday Expo, Pavilion 2, Tel Aviv
The legendary American punk rock band The Offspring is coming to Israel for the first time with only one concert as part of their ongoing world tour. The Californian band, known for its catchy and energetic songs, which from 1984 until today has released 10 brilliant albums and sold over 40 million copies worldwide - and therefore it's rightfully considered as one of the most successful bands in punk rock history with such hits as Self Esteem, The Kids Aren't Alright, Pretty Fly (for a White Guy) and Why Don't You Get a Job?
Concert The Offspring Tel Aviv
In 1994, The Offspring made their big breakthrough with the album Smash, which included the first and greatest hit Come Out And Play. This song's incredible success brought the album to the position 4 on Billboard Chart, to Gold and Platinum records, and for punk rock it has opened the gate into the music mainstream. Many consider Smash to be the album that revolutionized the pop-punk genre.
Over the years, The Offspring has been improving their unique blend of punk, pop, and alternative rock with witty lyrics and dynamic live performances. In addition to their classic hits, a lot of new songs appeared, while the band not only maintained the unchanged quality of live performances, but also raised them to new heights.
Concert Tickets The Offspring Tel Aviv
The Offspring's live shows are known for their high-octane energy and audience interaction. The band's members have a reputation for being charismatic and engaging performers, and often invite fans to sing along or participate in on-stage antics.
The Offspring's concert in Tel Aviv is expected to be a high-energy, crowd-pleasing event which cannot be missed. The band promises to give to the public all the music power they have and even more.
Buy tickets
purchase without
intermediaries
0% Commission
and fees