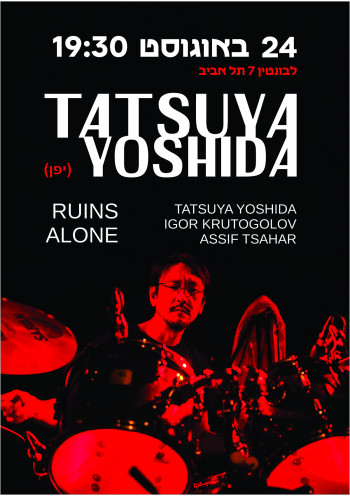 The legendary Japanese drummer
Tatsuya Yoshida

returns to Tel Aviv for a solo performance as

RUINS ALONE

and will also play a trio with

Igor Krutogolov

and

Assif Tsahar




August 24, 2023, at Levontin 7, Tel Aviv. Doors open at 19:30. Show at 20:00.




Tatsuya Yoshida is known as the guru of the Japanese underground and the leader of the legendary band RUINS. He will be performing pieces from RUINS in the format of RUINS ALONE. In the second part of the show two Israeli musicians, bassist Igor Krutogolov and saxophonist Assif Tsahar, will join Yoshida. The three have performed together during Yoshida's previous visits to Israel and released a CD documenting the trio's live performance.




The Japanese band Ruins, formed in the mid-1980s, is an incredibly unique and bizarre creature even within the eccentric Japanese underground scene. They started as an art-core punk band with a touch of progressive rock, gradually evolving into more and more complex musical forms, including elements of jazz, ethnic music, thrash metal, noise, classical opera, and free improvisation. Throughout their journey RUINS have managed to preserve their initial enthusiasm and the energetic presentation of art-core punk.




RUINS' lyrics are written in a language that doesn't exist, occasionally resembling Kobaian, a language invented by Christian Vander, the leader of the avant-garde French rock band Magma active since the 1970s. Magma is also the most significant influence on RUINS' music. Tatsuya Yoshida's outstanding compositions are exceptionally intricate, leaving listeners in awe of RUINS' precision and dedication, combined with a touch of abandon and spontaneous performance.




Tatsuya Yoshida is one of the most innovative drummers and unique composers/improvisers in Tokyo's contemporary avant-garde scene. Over the years, he has become a guru of Japanese avant-garde scene, collaborating with prominent musicians like Derek Bailey, Bill Laswell, Keiji Haino, Otomo Yoshihide, and John Zorn, among others. Some of RUINS' albums were released on respected labels such as John Zorn's "Tzadik" and Mike Patton's "Ipecac." To this day, Tatsuya's discography includes more than 100 albums.
Buy tickets
purchase without
intermediaries
0% Commission
and fees